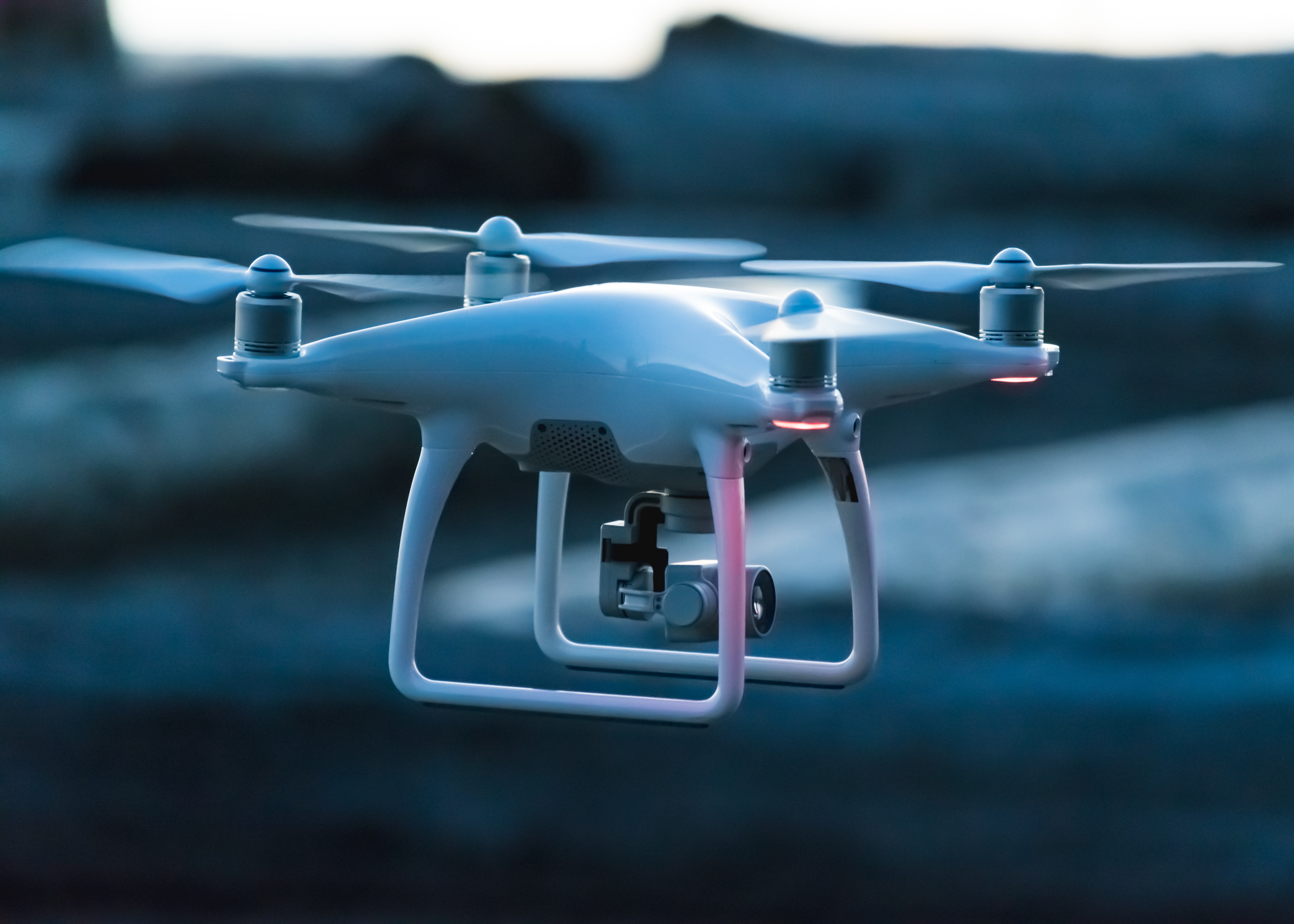 Girl Meets Drone Program Takes To The Skies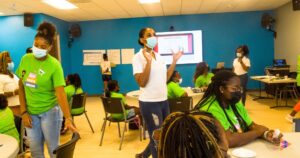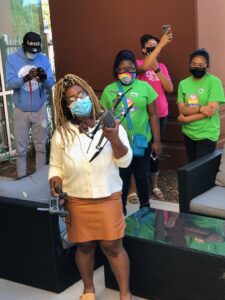 Figure 4: A student places the drone on the
takeoff pad to start
the autonomous
demonstration
 "This is a very exciting time for drones, when I entered this space, drones were pretty foreign and there were not a lot of people who embraced drones. I am so glad to see programs like Girl Meets Drone, which helps get more underserved communities involved in the drone industry. Not only were these ladies introduced to drones, but learned how drones could create businesses.  This is a program that should be in more locations and with more frequency", explained Jamar Williams.
The educational program hosted by Greater Than Tech tagged "Girl Meet Drone" is aimed at exposing underserved girls between ages 12 and 16 to drone technology and its potential to change the world for social good
It is a well-known fact that men dominate all quarters of the tech industry as STEM professionals and entrepreneurs. When it comes to tech leadership positions, there are less than 1 percent of Hispanic women and less than 0.5 percent of black women.  While as the drone industry becomes more mainstream, this technology endeavor continues to be another male heavy sector.
Drones can be used to solve some of the world's most critical social problems and provide a lucrative career. By 2027, the global commercial drone market is expected to exceed $8.5 Billion in valuation, but so far, only 6.7% of women have licensed drone pilots and even fewer women of color. On this note, Greater Than Tech developed and organized a 4-day educational program for girls to expose them into the drone technology industry.
At the forefront of the mission of "Girl Meet Drone", Greater Than Tech partnered with DETOUR FANCY to pique underserved girls' interest in the drone industry. Girl Meet Drone was designed to expose girls between the ages of 12 and 16 to STEM and business education for drone technology. By highlighting possibilities and pathways in the drone world, Girl Meets Drone aims to be the first step in education to building a pipeline to increasing the number of women drone pilots.
To kickoff the program, participants learned about the drone industry landscape from a black woman drone pilot and entrepreneur – Eboni Jazzmine of LVNDR Green. The first session highlighted the requirements and skills needed to become an FAA drone pilot and the various industries where drones are used. Students were grouped into teams, and each team developed a 'drone business' project for a drone industry of their choice.
Throughout the remaining days, students went through the engineering design process and a high-level version of the business model canvas where they learned how to code and operate a drone, determine their drone's value proposition, target market, channels, company brand and sales. The program concluded with a final showcase and demo of their drone where participants pitched their drone businesses to their program sponsors, drone experts and community leaders such as Jennifer Benson, Sr. Director of Engineering at Collins Aerospace, Samantha Scully of Principal of Scully Staffing Solutions, Jamar Williams, CEO of PromoDrone, and San Diego District 4 Councilmember Monica Montgomery Steppe on October 2nd at the Jackie Robinson YMCA.
"The students chose very impactful drone industries and their business ideas were very innovative", Samantha Scully, an ambassador for Women and Drones mentioned. One team, named Enviro Inc. pitched a drone business to slow climate change that would spread seeds to produce more trees. Another team, Stormi Inc., pitched a weather tracking drone business, that would help detect and alert people in remote areas of natural disasters. And on the consumer goods side, another student team pitched CDSD Inc. (California Drone Service Delivery Inc.) where the drone would complete all your returns for you. Lastly, one group of girls were most excited about the programming piece of Girl Meets Drone, so they presented their code as well as their drone demonstration. Then to the girl's surprise, Jamar Williams and Samantha Scully-certified drone pilots performed a professional drone demonstration as well.

Councilmember Montgomery Steppe shared, "We are in the early development of the drone industry. I urge participants to get licensed and stay ahead of the curve," said Councilmember Monica Montgomery Steppe. "I was very impressed by the showcase. I commend Greater Than Tech for their efforts to showcase local talent through this program, as it is so important to engage more girls from our community into STEM."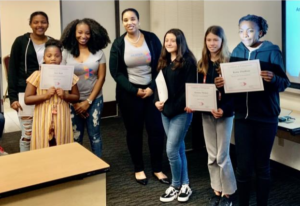 "Our framework is very comprehensive," explained Jasmine LeFlore, Co-Founder and Executive Director of Greater Than Tech. "We have a curriculum that works and can be applied to any tech industry. It was necessary to instill it into this program because at only 16 years old, one could obtain their pilots' license. We wanted our students to leave this program feeling confident in knowing that they could register for the FAA test, pick up their project, and turn it into an actual business plan."
Collins Aerospace has been instrumental to the Girl Meets Drone program through their support of Greater than Tech's work to inspire the next generation of women innovators.  "Collins Aerospace was thrilled to sponsor the Girl Meets Drone program," said Jennifer Benson, Sr. Director of Engineering at Collins Aerospace. "I was so impressed by these intelligent young women exploring and spending weekends on STEM learning. Also proud of the Collins volunteers and leaders who prioritize the next generation and made this possible and successful!"

 
Parent Feedback from Adesola A: "My daughter enjoyed Girl Meets Drone. She was delighted to work with girls just like her who had an interest in coding. The program gave her the opportunity to apply coding skills she had in a practical business environment. She was also surprised to see how coding related to drones. She now believes she can build a business as well as an engineering career. The GTT team put together an excellent program that shows our girls a pathway to not just thinking about solutions but innovating and executing them as well. I look forward to signing up for the next one."
Through the Greater Than Tech platform, Jasmine LeFlore specializes in engineering and entrepreneurial education while showing the real-world applicability of STEM. She targets middle school girls of color and offers additional programming services to underserved middle and high school youth. In an effort to create a community of practice of young tech innovators and entrepreneurs, Jasmine will be offering apprenticeship and junior mentor roles to select high school and collegiate students who have been or would like to be involved with Greater Than Tech.
"The main learning objective we are bringing to light is that both engineers and business people solve very important problems. There's a common phrase in the industry that 'engineers make the best business people' so we want to combine both disciplines to get them thinking not only about a tech career but also how they can use tech to build a company if they so choose. It is all about exposing their horizons in tech", LeFlore explains.


About Greater Than Tech
Greater Than Tech (GTT) is a 501c3 organization dedicated to creating the next technology business leaders by teaching girls of color the intersectionality of engineering and business. With an eye for innovative and creative ideas based in the world of possibility, GTT is committed to instilling the importance of self-efficacy, teamwork, and an entrepreneurial mindset in all its STEM programming.
For more information, PRESS OR MEDIA INQUIRIES please send an email to [email protected]